It's been a little quiet on the blog because I spent the last three weeks in Asia.  There's some electronics enginerd stuff coming next week.  Until then, I hope you'll excuse this rare off-topic post.  While in Tokyo I saw a number of awesome things and thought I'd share 2 of them:  ASIMO at the Miraikan Museum and  a dinner show at the Robot Restaurant.  Click Read More to check out some pictures and videos.
ASIMO at the Miraiken Museum
The Mirakien is the National Museum of Emerging Science and Innovation.  It is located just a few minutes walk from the cool named "Tokyo Teleport Station."  Currently the Museum has an exhibit focused on robots with a 15 minute show of Honda's ASIMO.  ASIMO is a humanoid robot with amazing life-like movements.  The video above is one I shot from the demo.  One of the amazing demos was ASIMO kicking a soccer ball to a kid.  What made it amazing is that he had to target the ball, the kid's location, and balance one foot.
One thing to notice in the video is how long each of those operations take.  (Maybe he is using millis() instead of delay()!  j/k).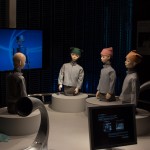 Robot Restaurant
Have you ever wondered what it would be like to eat dinner and watch robots fight?  Well then, Robot Restaurant isn't quite what you want.  The Restaurant is located in the Shinjuku district, which is a cool place to visit at night.   The food is subpar.  I suggest eating beforehand.  The entire venue is audaciously designed.  The staircase down to the stage is covered in fake gold and weird decorations.
The entertainment is fun, but is really focused on scantily clad women and less on "robots."  Still, the big machines are very cool when they do come out.  At intermission you get a chance to get a photo with the robots.  One reminds me of bumblebee from Michael Bay's franchise.  This is clearly a tourist type event, but kind of cool to check out while in Tokyo.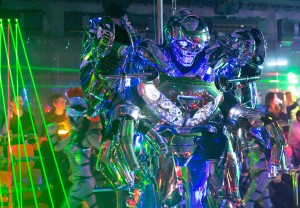 Other Pictures
If you're curious here are two more albums from the same trip.  One is from Meiji Jungu Temple and the other is just random stuff.  Not really nerd-material, but if you're interested in Tokyo, you might like them.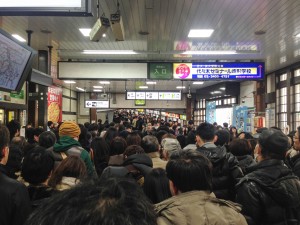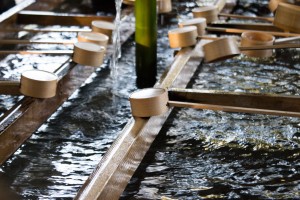 Again, I apologize for an off topic post.  However, I thought you all might like to see some Robots and Cool Tokyo stuff.