On every page of my blog, you might notice a chat window. If I'm not busy, we can chat in real-time. If not, the messages come to me by email. Here's one I got from Matt the other day:
Let's talk a bit about how (and why) you would use a P-Channel MOSFET. Matt, and he's not the only one, is probably asking this question based on the "myth" that P-Channel MOSFETs require "negative voltage" supplies.
Keep reading for how-to use only positive voltage in this p-channel MOSFET tutorial.
N-Channel and P-Channel MOSFET Tutorial Video
First, for some background, check out this AddOhms video tutorial about MOSFETs, I already made.
What's different?
The actual construction of the two types of MOSFETs differ. There are plenty of those explanations out there on the layers. Instead, let's focus on how you use them in a circuit.
VGS Threshold
The first thing we need to know about using MOSFETs is one of their critical properties: VGSth. Which stands for Voltage Threshold from Gate to Source. As the voltage difference between those two pins changes, so will the resistance from the DRAIN to SOURCE pins. This threshold is how a MOSFET turns ON and OFF.
How that resistance changes, depends on if it is an N-Channel or P-Channel MOSFET.
P-Channel MOSFET Tutorial and Explanation
Look at the VGSth for a P-Channel MOSFET. You might notice that VGSth is a negative value. We can use the datasheet from an IRF5305 as an example.

Its VGSth is specified as a range: -2.0V to -4.0V. So, how could you possibly use this MOSFET with an Arduino, LaunchPad, Raspberry Pi, or any other microcontroller? Do you really have to generate negative voltages?
It's about the difference
This spec is where the myth of the "negative voltage" comes in: Since the datasheet says negative, clearly, you need negative voltage to work. And datasheets, never lie (except when they do…).
Let's literally read what the specification is saying. "Voltage from Gate to Source of negative four volts." Using different words, you might read it as "GATE voltage value minus the SOURCE voltage value."
Look at the voltages in this "high-side switch" configuration: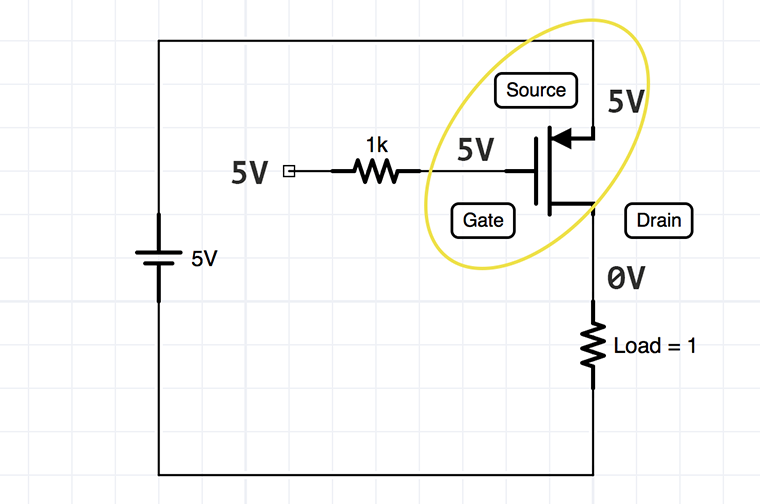 The GATE is now at 5 volts. The SOURCE is also at 5 volts. That means the Vgs is 5V – 5V = 0V. So the Vgs, in this case, is 0 volts. This voltage means the MOSFET is turned off, or an open.
Now, this is the same circuit, but the GATE is connected to ground instead of 5 volts.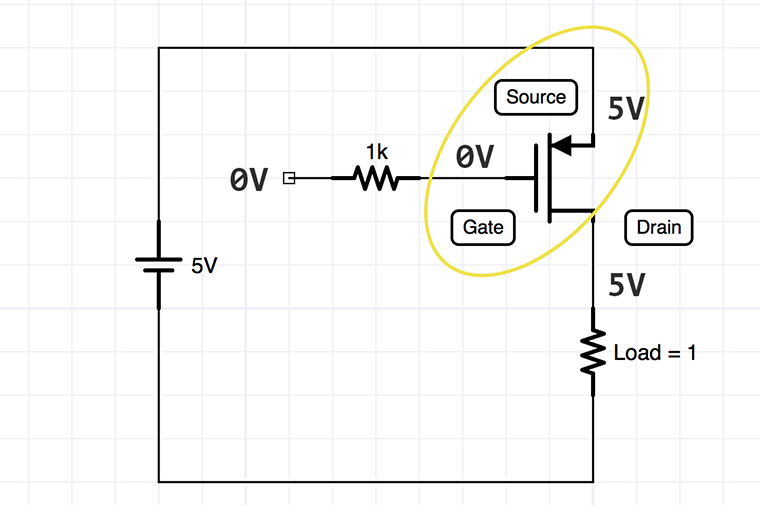 Let's look at the SOURCE and GATE again. The SOURCE is still at 5 volts. However, now the GATE is at ground which means it is 0V. If you take the GATE voltage minus the SOURCE, you get 0V – 5V = -5V. This will turn the MOSFET on.
See what just happened there? We got a "negative" voltage using only positive voltage supplies…
Why use N-Channel over P-Channel
We would need to dedicate a tutorial on when to use an n-channel and p-channel MOSFET. An excellent use for P-Channel is in a circuit where your load's voltage is the same as your logic's voltage levels. For example, if you're trying to turn on a 5-volt relay with an Arduino. The current necessary for the relay coil is too high for an I/O pin, but the coil needs 5V to work. In this case, use a P-Channel MOSFET to turn the relay on from the Arduino's I/O pin.
If your load voltage is higher, like 12 or 24V, then you might want to use an N-Channel MOSFET in a "low side" configuration.
Conclusion
Using a P-Channel with positive voltages is easy when connected to the circuit correctly. We just have to get over the myth that they work with "negative voltages."
What's the most creative MOSFET circuit have you seen?