[guestpost]My friend Pablo recently upgraded his firestarter iron to a Hakko FX-888D. Because of its popularity and his relative newness to the iron, I asked if he'd like to write up a review for it. You can follow him on
twitter
.[/guestpost]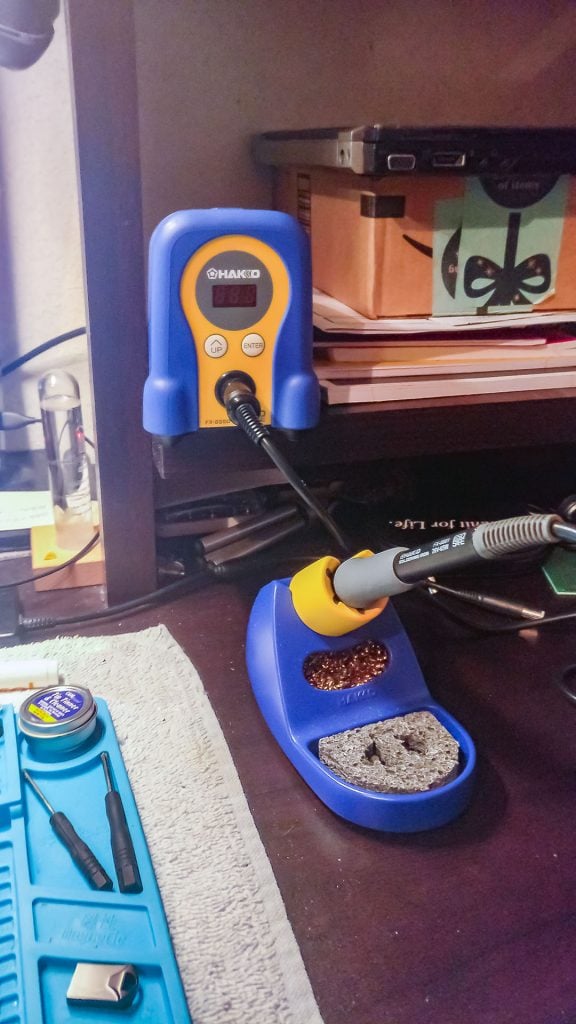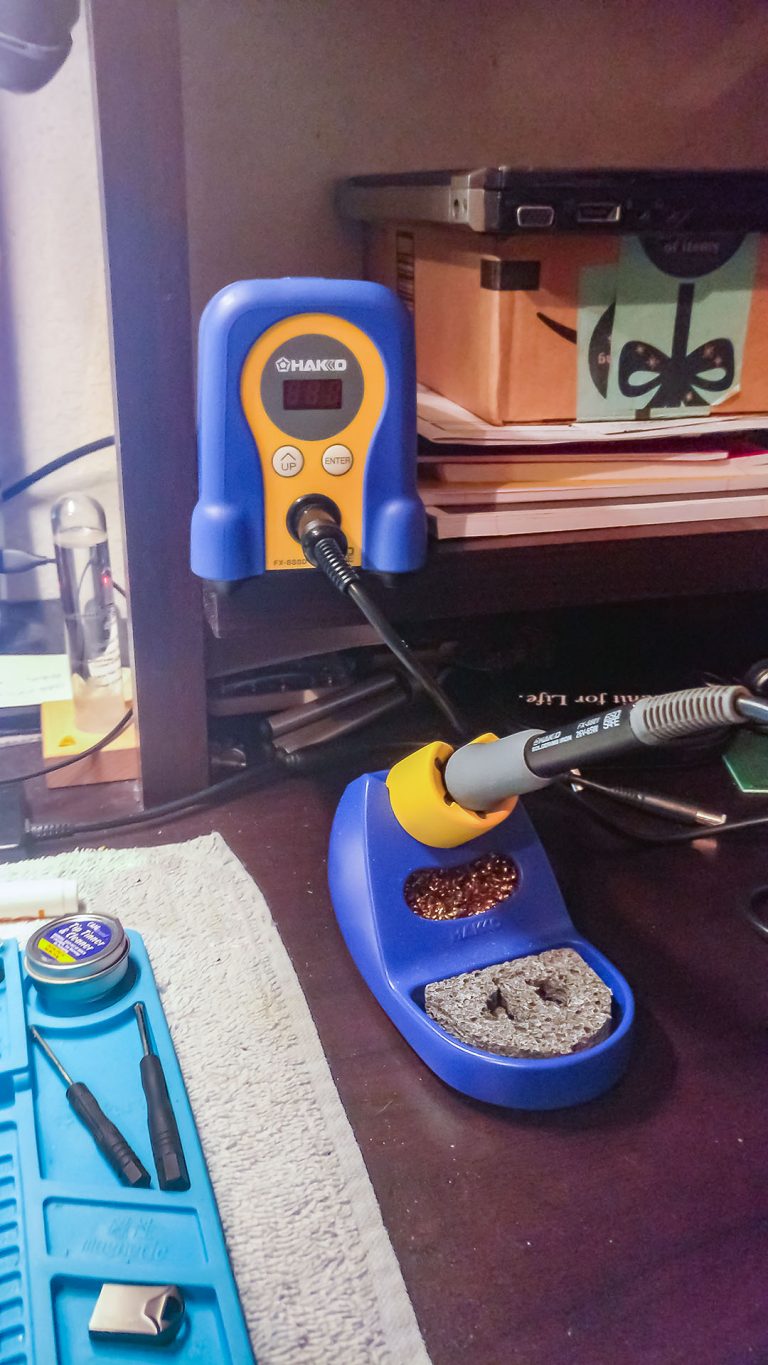 Just based on the color, the Hakko FX-888D seemed, at first, like it was a toy compared to other electronic tools and equipment. The color does make it easy to spot even if you are buried in a project. You can quickly find it because it stands out. The outside seems like plastic, but it is made from or encased in metal. Knowing that it was only a plastic enclosure made me feel like this will be with me for a long time.
I love how the iron holder is separate from the base. It easily can be placed anywhere in the work area. Also, keeping the base unit in one spot makes life so much easier. It gives the iron itself enough room so nothing nearby can accidentally be melted or burned by the iron.
The iron holder also has a convenient area for a cleaning wire and a cleaning sponge. I only wish that the opening for the cleaning wire was a bit bigger. As is, I regularly clean the tip using the same spot. Having the removable bottom makes it so easy to clean all the solder junk that collects at the bottom from the cleaning wire. If only the rubber legs were a bit wider, they would help keep the iron holder from sliding around my desk. (This could be just because of the type of tabletop I have it sitting on.)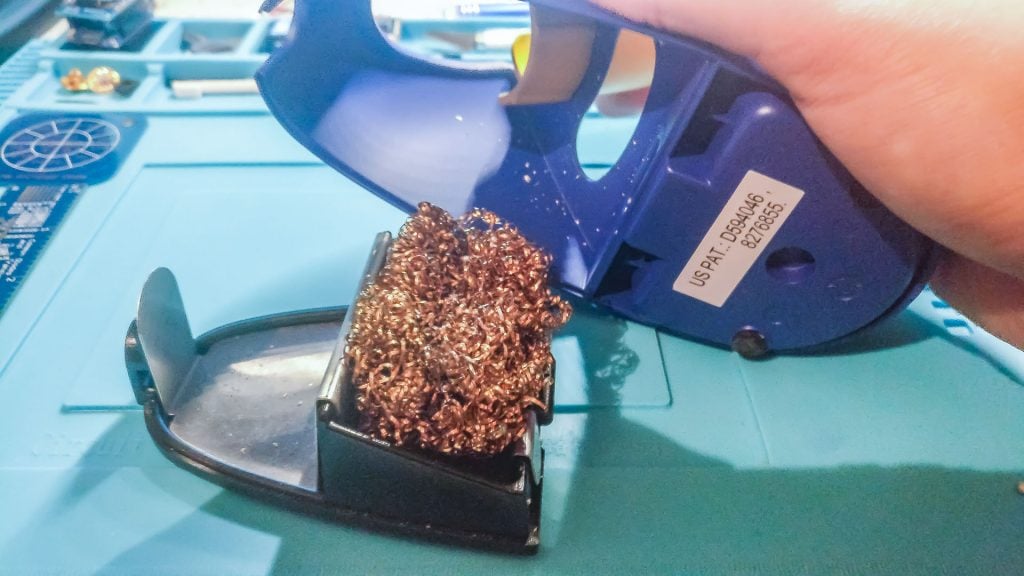 FX-888D Tip Types
I am amazed by all of the available tip options and soldering iron attachments. For the FX-888D, there are only three extra different iron options.
Pencil style. The standard soldering iron style you see on a majority of soldering irons.
Hot tweezers. These are used to remove SMD chips and flat components. (The number of times I wish I had this one could have saved me).
Built-in solder feed type. This type allows you to solder with one hand. As someone that spends more time trying to get the board properly positioned with a 3rd hand, than soldering means this accessory will definitely be my next purchase.
Viewing the different types of tips and size was a bit overwhelming. Fortunately, Hakko's website has a fantastic explanation of the proper tip size. There are also examples and helpful (usage) tips on how to use the different tool types they offer. After soldering as a hobbyist, for many years, I learned that it is a bit more than personal preferences.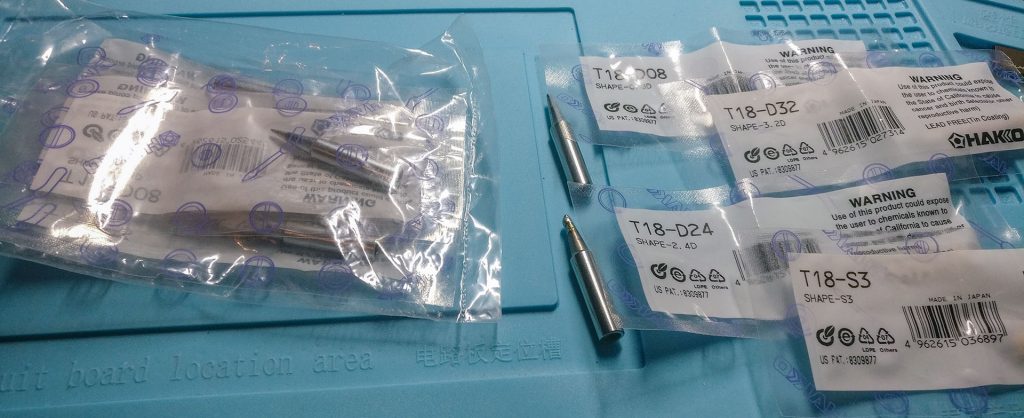 Heat-Up Speed
Since I started using my new Hakko soldering iron, I have been soldering not just because I must but because I want to! To the point that I am running out of things to solder. The main reason I ran out is how the little time it takes for the soldering iron to heat up. Before, I would have to start heating my soldering iron and then begin prepping everything. Usually, I was ready before the iron was ready to the solder. Otherwise, I would be sitting there with the tip on the leads, waiting for enough heat to be able to melt the solder. BUT. Even then, I'd have to wait for the leads to heat up enough for the solder to flow correctly.
With the Hakko, it only takes about 30 seconds to heat up to 350°C in a cold room. That speed leaves me very little time to get the components out of the package to have ready to solder.
Hakko User Interface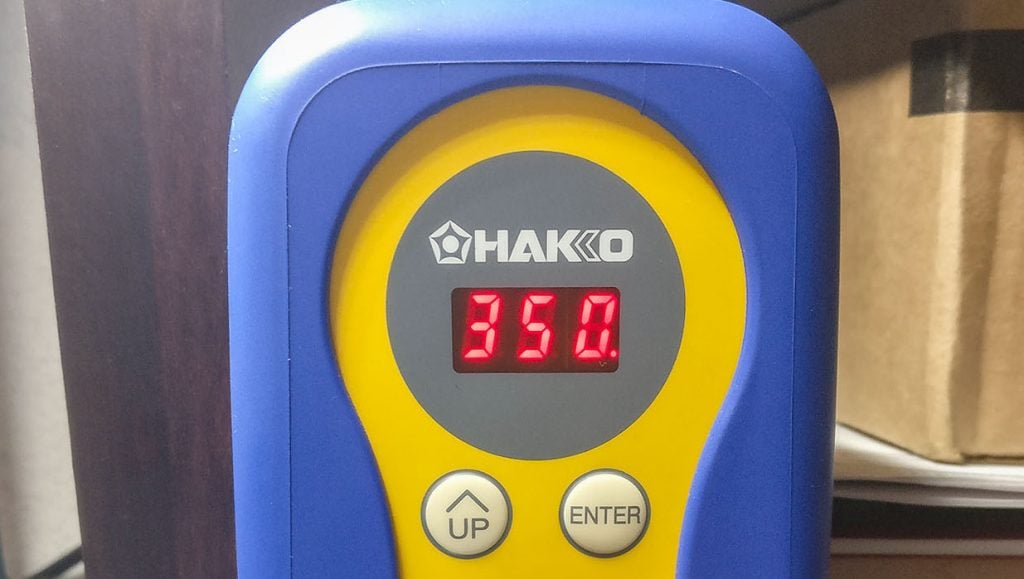 The FX-888D is easy to use with its simple two-button interface. Since I don't do a lot of different boards or components, changing the temperature is easy to do and set. Once I set the temps, I don't have to worry about changing it every time I turn it on.
Pro Tip: Always keep the manual, in case you ever want to set up the different features it has.
Without the manual, figuring out the more advanced options would be very confusing or difficult to set them up. It has a preset mode where you can set different temperatures for different types of projects. Or, whenever you change out the tips that require different temperatures. Also available is a password function so that no one can go in and change any of the temperature settings you spent so much time setting up.
I only wish it had a much easier to use interface. For example, I don't particularly appreciate needing to look up the instructions on the manual. But since the control unit saves your temperature settings once you set them, you no longer must worry about changing them.
Conclusion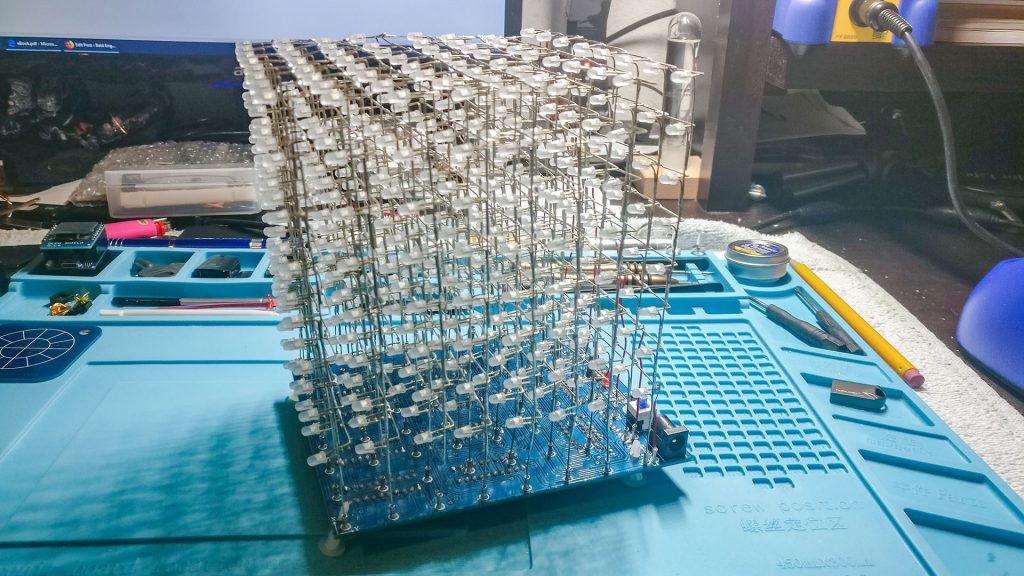 Overall, I believe this is the most fantastic soldering iron I have ever owned! No longer will I even think of going back to any cheap "simple" soldering irons for my work area. The price is reasonable for hobbyist, anyone looking into starting soldering, or for those struggling with their first (much) cheaper soldering irons. With all the different types of soldering tips and options, I believe, I won't have to worry about getting an entire new soldering iron for a very long time.
Have you used a Hakko FX-888D? What did you think about it? Or do you have any questions for Pablo on it? Let him know in the comments.