As your electronics hobby grows, so does your parts collection.  Eventually the growing number of Mouser boxes with crudely written labels just won't cut it.  Also, you're tired of re-ordering parts you had but forgot about.  Here's a couple of ways to keep track of your parts like a pro.
Text File (aka Evernote)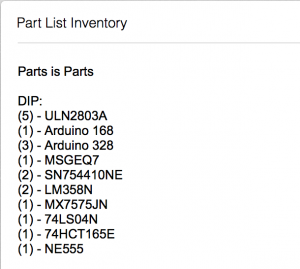 The most basic option is a text list stored as a text file or in your favorite note taking app.  Eventually I moved my text file over to Evernote.  It had the benefit of being mobile so I could update it as I found those parts hiding in plain site.  The limitation though is that it's just a flat text file.  No sorting, limited searching, and nothing to prevent duplicate entries.
If the choice is between nothing a text file, using a plain simple text file is divide-by-0 better.
Spreadsheet (Google Docs)
A step up from the text file is to use a spreadsheet.  Google Docs is a great option because a spreadsheet to track your parts generally isn't very complicated, and you have all of the advantages of cloud access.  If you're a Chrome user, you can even edit offline.
A quick Google search will show a variety of part list templates are available.  If you started with a text file, moving to a spreadsheet is pretty easy.
Plus if you use a cloud app like Google Docs, it is easy to share the parts database with others.  This is a nice option for hackerspaces.
Parts Database (aka ecDB.net)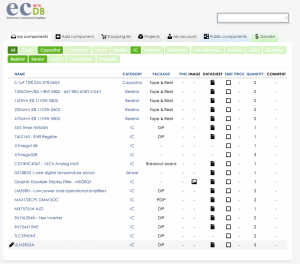 Last is using a full-on parts database to keep track of your parts.  The other day I came across ecDB.net.  It's an online components database.   Overall, I find it is pretty slick.  When you add a part, fields for all of the basic information is there:  Name, Type, Package, Quantity, and datasheet links.  You can also add pictures if you have a URL available, like in the example below.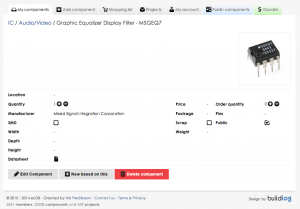 I only have two gripes about how the database is setup.  1) I wish there was a Part Number field instead of just "Name".  And 2) as people populate the database, why can't information about those parts auto-populate?
What I like most is the nice clean interface.   More sophisticated than a text file but more intuitive than a spreadsheet.
I just started using ecDB.net.  I'd love to hear how you are keeping track of their parts in the comments below.  What you're using (and why)?