If you are anything like me, your copy of EAGLE has an extensive list of libraries. Most of them probably came with the installer, some which you have added. This, of course, leads to the problem of finding the parts you need when drawing your schematic. Here's how to use the "Search" box to help.
The Problem
Here's what my Add Part screen currently looks like: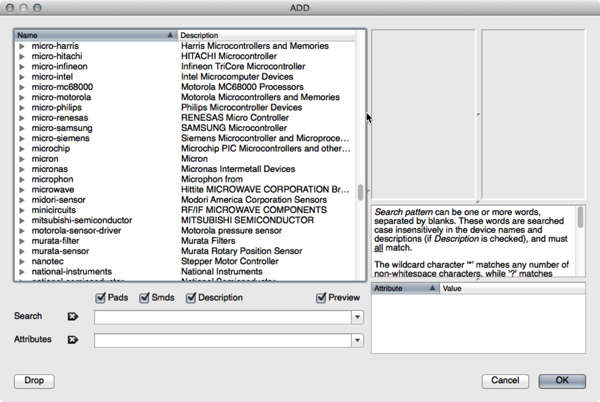 It's a mess right?  All those libraries, how can I find a single part?  That's where the Search box really play a critical role.
Using Search
If you are familiar with the days of MS-DOS or using a UNIX terminal line, then the following search commands are going to make sense.  The key to making really good use of that Search box is to know that you can use wildcard characters to find parts.  First let's start with no wildcards.
Find All Possible Ground Symbols
In the Search Box, type in "GND" (without the quotes, like below) and hit enter.

Once you do that, the results are filtered down to a nice managable list.  In mine I have a "supply1", "supply2", and one from the SparkFun library I installed manually.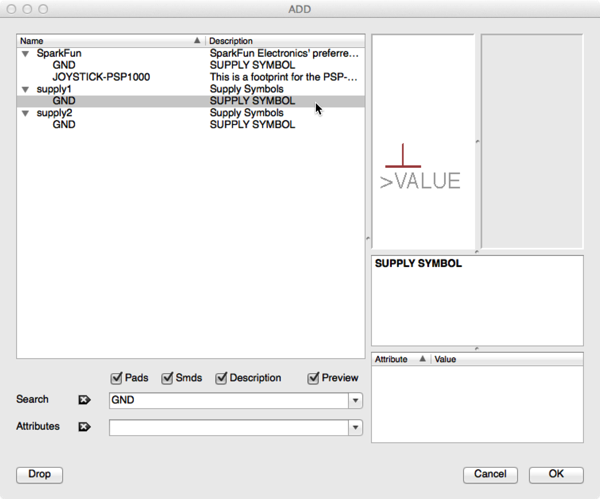 2222 Quick Search
Okay so that's pretty start forward, but look what happens if you search for a popular transistor like the 2n2222.  Just search for "2222" and watch what happens.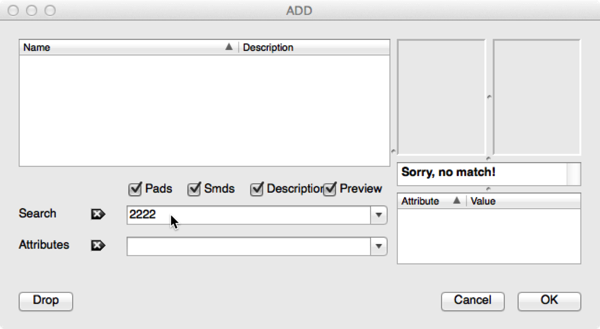 What the heck!  I know it's there.  It has to be, with so many libraries available how is such a popular transistor missing?  So where is it?
Using Wild Cards for Search
The problem is that there are no actual parts just called "2222" in the library (and possibly for sale).  However, JEDEC EIA370 defines how part numbers are created.  A 2222 transistor is a three-terminal device, so it begins with 2n, meaning the full part number is 2n2222.  Before you go off typing in "2n2222" in the search box, what if instead we use wild cards?
*.* Means Anything [DOS Reference]
Let's say you couldn't remember that the transistor might start with 2n, but you know something goes in front of the "2222".  Do a search for "*2222".  (Star 2 2 2 2).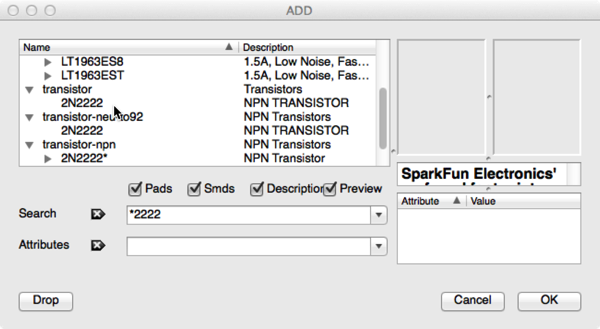 Ah-Ha!  This time we found several 2n2222s we can use in our design.
The Riddler Symbol Works Too [Batman reference]
In addition to the star (*), you can also use a (?) which will replace single characters.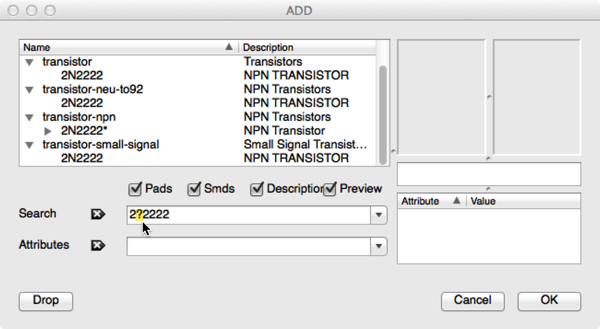 Other suggestions
That's the basic search functionality.  Here's a list of the command searches I use to locate common parts quickly.  (Sometimes may only exist in parts found in the Adafruit EAGLE Library or Sparkfun's library.)
GND
VCC
Cap*  [Capacitors]
Res*  [Resistors]
*7805*  [Linear Regulators]
ATmega* [Various Arduino or AVR Microcontrollers]
FRAME*  [Frames for documenting the schematic]
LED*
MXX  [XX number of pins like 02 or 14 for standard headers: Sparkfun library]
What common searches do you use in the EAGLE part list?  Or, what other search patterns have you found work when finding something?