Category Archives:
Soldering
element14 Presents on YouTube
2019-04-10
element14 - Workbench Wednesdays
06-FEB-2019
This AddOhms episode is part 3 of the "design your own Arduino" series. In this one I populate a bare PCB, reflow solder it, debug a few issues, and load the Uno bootloader. Originally, I designed 2 versions of the board. One version contained an error that I planned to fix in the episode. Well, turns out, the "correct" board had two issues which were more interesting.
Check out the #27 show notes for links to a bunch of stuff in the episode, including the design files.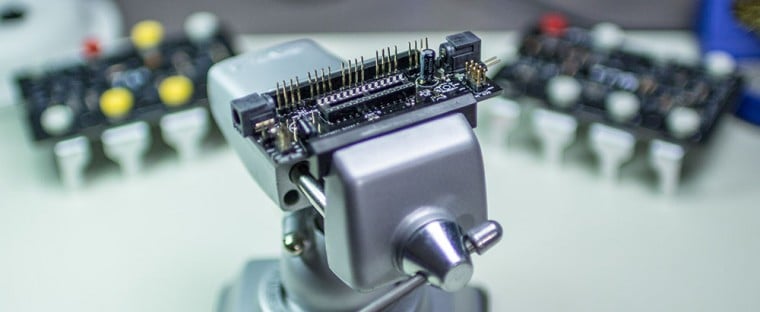 Solder is the glue of electronic circuits. In addition to a permanent mechanical connection, solder provides an electrical connection. Not too much unlike glue solder combines two separate metal pieces with a bonding material. In this case, the bonding material is a metal or allow with a relatively low melting point.
When soldering together a circuit, the quality of the solder joint is crucial. Most people probably recognize the need for a high-quality soldering iron, like the FX-888D from Hakko, but about the other tools?
Building a modular soldering station is just as critical to making good solder joints as the actual solder itself.
Continue Reading »
OK International / Metcal (via Newark)
05-14-2007
Brass Sponge over Wet Sponge
Keep your soldering iron tip from oxidizing.
As it gets dull and gray, it'll be harder to make good solder joints. My favorite tool to clean a tip is a Brass Sponge. The other option is a damp cellulose sponge, but I'm not a fan of those.
I have just never found a sponge gets the tip as clean as a light dabbing from the brass sponge.
Just be careful not to "scrub" too hard, you don't want to scratch the tip. When you done soldering, make sure you clean it with the sponge then coat the tip with fresh solder. Leave that solder on the tip until the next time you use it. The layer of solder will prevent oxidation from building up while the iron sits unused.