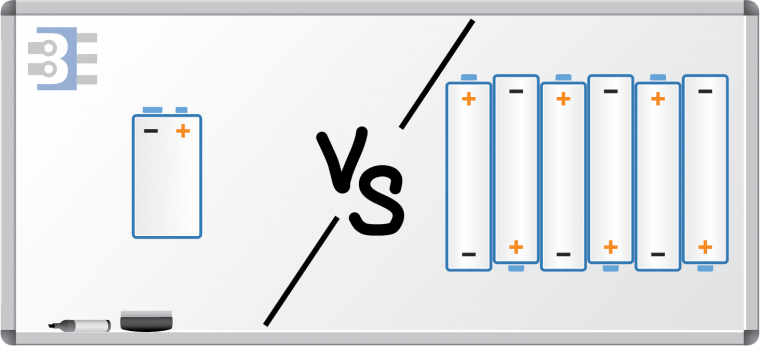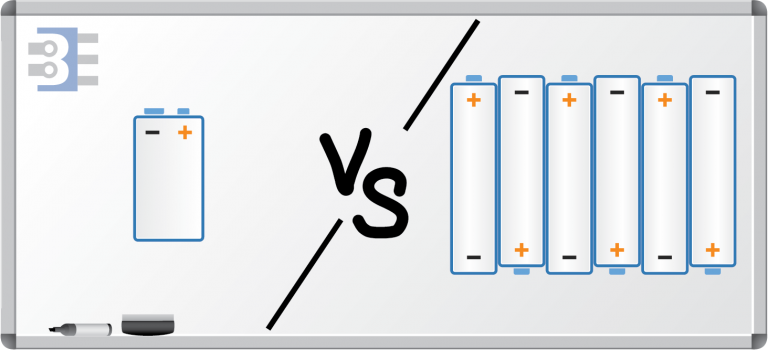 Previously I wrote up why the 9V battery sucks. As I thought more about that post, I realized, I never explained how much energy is in a 9 V battery versus say a couple of AA batteries.
For this post, I am going to break down the energy stored in a 9 V battery, the small rectangular kind and compare it to what you get with 6 AA batteries. Yes, it takes up a little more space, but you might be surprised by the difference.
Power vs. Energy
While 9 V sounds impressive, voltage is not the only consideration when it comes to the "power." Or, more correctly, the energy in a battery. To start, let's make sure we understand the difference between energy and power.
Power
While the term "power" does tend to get misused, it has a very scientific definition. Power is "the rate at which energy is delivered to a circuit." Power's SI unit is "Watt." A watt is defined as one joule per second.
Properties of a battery, like its internal resistance and how that resistance changes with temperature, determines the battery's maximum deliverable power. Now, let's compare that to the term Energy.
Energy
The lesson I remember from high school physics is that energy can not be created or destroyed. You can, however, transfer or transform it. In the case of a battery's cells, energy is stored chemically and delivered electrically. This distinction is important: cells convert energy between chemical and electrical forms.
You can waste, consume, or store energy. But you cannot create or destroy it. (Apparently, you can also buy small cans of it marked as Red Bull.)
The SI unit joule (J) expresses the unit used to measure energy.
Energy is the ability to do work. Power is getting work done.
Energy Stored
The energy capacity of a battery is how much energy it can store in its chemical structure. We can calculate a battery's stored energy with a simple formula.
Calculating Energy in a 9V Battery
The formula calculates the energy stored in a battery:
In this formula "V" is the (nominal) voltage of the battery, "I" is the current capability in amps, and "t" is the time in seconds.
From my previous 9V battery post, we know that a typical alkaline battery stores 600mAh, at best. That is part of our current capability. However, that rating is in milliamp-Hours, which is a funny unit of measure. To convert to amps per second, just multiply the number by 3600.
With these three pieces of data, our equation becomes:
19,400 joules sounds like a bunch, right? Next, let's compare to the amount of energy in a single AA battery.
Calculating Energy in an AA Battery
A single Energizer AA, or E91, is rated for just under 3000 mAh at 25 mA drain. For this calculation, I picked 25mA because that is the nominal current draw for a 9 V. As a conservative value, let's use 2750 mAh.
Using the same energy formula before, we can calculate the amount of energy in a single 1.5 V AA battery.
Wow, that is almost the same number, yet, the battery's rating is only 1.5 volts! That is pretty amazing when you think about it! Of course, We need six more cells to get to 9 V. Which gives the total energy of:
Obviously, that calculates as 6X a single AA and just slightly more than 4X a 9V battery. Next, let's take volume into account.
Energy Density
Using the volume and the weight of the battery, we can calculate the energy density of both the 9V and AA.
We can get those values from Energizer's data sheets for Zinc / Manganese-Dioxide (MnO2), aka Alkaline, batteries. Combine that and we can get the energy densities.
| Battery | Energy (J) | Weight (g) | Energy / Gram | Volume (cm3) | Energy / cm3 |
| --- | --- | --- | --- | --- | --- |
| 9V | 19,440 | 45.6 | 426.3 | 21.1 | 921.3 |
| Single AA | 14,850 | 23.0 | 645.7 | 8.1 | 1833.3 |
| Qty 6 AA | 89,100 | 138.0 | Same | 48.6 | Same |
So for three times the weight, you get 4.6 times the available energy, while only taking up about 2x the space required.
Conclusion
As I said in my previous 9 V battery post, don't be lulled into the myth that "9Vs Have More Power!11!." When you do the math, their energy density is pretty lousy compared to the little 1.5 V cell.
If you can afford the space, you are going to be much happier with the energy provided by six AA batteries, compared to a single 9V battery.
References