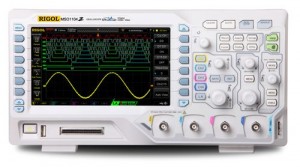 Oscilloscopes are the most critical tool when it comes to debug and analysis of electronic circuits.  In recent years, digital oscilloscopes finally surpassed their analog equivalents.  (10 years ago I would still make an argument for analog, but not anymore.)
The most innovative change to digital scopes came with "Mixed Signal Scopes."  In addition to the high-resolution analog channels, you get 16+ digital channels time-correlated.  Digital channel in this context means only seeing a 0 or 1, kind of like a logic analyzer.
Rigol's MSO1104Z combined 100MHz of Analog Performance on 4 channels along with 16 Digital Channels for $1000 (MSRP: $997) USD!  That's an amazing package.  Full specs and Quote request available here.
Full Specs:
100MHz Bandwidth, 4 analog channels
16 digital channels for Mixed Signal analysis
1G Sa/s Real-time Sample Rate
12Mpts (Std.) and 24Mpts (Opt.) Memory Depth
Innovative "UltraVision" technology
Up to 30,000wfms/s Waveform Capture Rate
7 Inch WVGA (800×480), multiple intensity levels waveform display