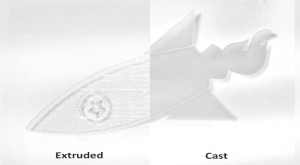 One of the most popular materials to use with a laser cutter is acrylic. Head over to buy some acrylic from Inventables and you'll see options for "extruded" or "cast" types. Not sure what that means?
This Make Skill Builder on Acrylic gives the basics on the material. You'll understand the differences between the two: especially important if you plan to mill or laser cut it. Additionally, there are tips for bending, shaping, and gluing acrylic.
Check out the Acrylic Cheat Sheet on Make.