This is my first year attending CES. Apparently, nobody told anyone here about the death of the trade show. As an enginerd, here is my perspective.  First, if you've never been, this show is huge. Huge. You aren't just walking around 100 or so booths. This thing is spread across 3 different conference centers in downtown Las Vegas.
With over 160,000 attendees, CES was spread across three massive convention halls. Nearly every company offering electronic products were on display. From Televisions to Appliances to Computers to Automotive Electronics to Wearables.  Broken down below are highlights and pictures from the show, based on industry or application area. 
Physical Fitness
As more smart phones include bio-metric sensors, there is a growing trend of "personal health or fitness" devices. Some of these devices work stand-alone, but almost all support bluetooth (or similar) technology to transfer data to a smartphone.
The focus here is clearly on low-power.
3d Printing
Last year's 3D Printer displays was considered overboard by many. The recent consolidation in the market has pulled the expo area back to a reasonable size. Stratasys and 3D Systems dominate the market now with product offerings from low-cost extrusion systems (e.g. Makerbot) to commercial resin-based machines.
Some material manufacturers are still pushing to show printable metals, which may become an interesting technology for the manufacturing of Printed Circuit Boards and Embedded Passive components.
Personal transportation / Robotics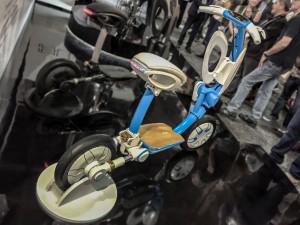 There were a lot of personal transportation devices on display. From simple $1000 electric scooters to golf-cart sized "cars" for $6000. Lots of options with lots of price points. Also on display were a number of "telepresence" devices. Including this demo from Beam to play the Hokey Pokey. The host was somewhere in California while the group in front of them just looked silly.  It seemed interesting to me that they had such a large booth area and no one actually there.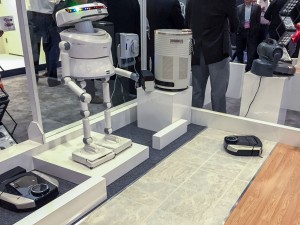 A couple of companies had iRobot style Roombas. Including a few that looked like exact duplicates.
The trend here is that a number of devices are using similar sized electric motors (and related power electronics.)
High-End Audio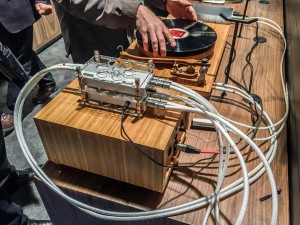 For my first visit to CES, I wasn't expecting that one of the first things I'd see is a wooden turntable and a stack of LPs. There were a number of companies with large-can style headphones on display. Trend here is that high quality audio seems to be surfacing. Between the Pono Player, Sony's $1200 Walkman, and low-cost flash memory it looks like high-end audio is on the rise.
I'm curious if this is a blip or a real trend, since  most people seem to be happy with "average" audio quality. It seems more likely the trend is that "average audio" has become good-enough for most, but not all people.  Are there enough people to support these ultra high end audio devices?
Automotive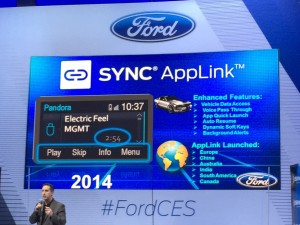 Overheard line:  "Cars should operate as well as a smart phone." An interesting trend for cars is the increased amount of software and focus on Apps to run them. In fact, Ford was very App Focused more than almost any other technology at their booth.
Cars should operate as well as a smart phone
Toyota seemed very proud of their Hydrogen Fuel Cell based cars. Which seems to the most likely alternative to gas-based vehicles, but still with a large number of implementation issues.
Televisions
Of course there were TVs all over the place. All manufacturers had a 4K display. Many (if not most) had 8K demos. None of the 8K demos I saw had full motion video. Instead, they were using stop motion video, which implies to me they didn't have source video at 8K. So they had to combine higher resolution photographs instead.
Some companies like Samsung, had "ultra high-resolution" 4K display instead of touting 8K. These work similar to Apple's Retina display where the number of pixels in the panel is greater than the number of pixels displayed. This makes for a richer picture.
There were a number of curved displays this year.
For 3D, there seemed to be a fair amount of glasses-less 3D displays. However, none of them really impressed me visually.
Final Notes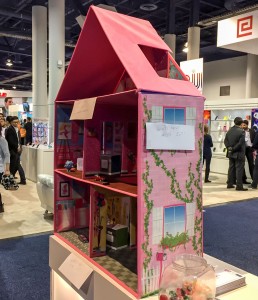 There was surprisingly little signage around "Internet Of Things." I did see a few takes on it like "Internet of Everything." Including Intel's RealSense announcement, seemed like Eye Tracking Sensors was a big thing.
Finally, it seems that tablets are on the decline and convertibles are on the rise. The very fact that major PC manufacturers had no devices on display  (or booths) was interesting.
Being that this was my first year, I can't really compare this experience to anything else. It's a consumer electronic show–the epic consumer electronic show.
What is the most exciting news or announcement from CES 2015 you've heard about?